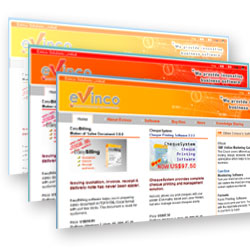 Search Engine Optimization (SEO) is important and have great impact on search engine ranking. Not only your web contents and the linkage from other websites, the web design of your website plays an important role to search engine optimization.
You should have a optimized web design which allows search engine spider to crawl your website easily and effectively.
Use CSS Stylesheet
CSS Stylesheet allows you to separate the style of your websites from the web contents. It can definitely easier to maintain your web sites. It is better to keep the CSS stylesheet as an external file and you should also avoid in-line css style. This not only reduce the overall page size but also let spider to crawl your page easily.
External JavaScript
Avoid using Javascript navigation menu. Spiders like plain html file rather than javascript. Some spiders even skip those Javascript. If your menu is built with javascript, you should provide other plain html way to link to the page in your menu. This can give spider an alternate way to access your page. Similar to the CSS stylesheet, it is also better to keep those javascript in an external file.
Optimized Graphics
You should optimize the graphics used in your webpage. This can greatly reduce the overall page size. Remember that search engine spider can read text but they cannot read graphic. If it is possible, you should use text instead of graphics.