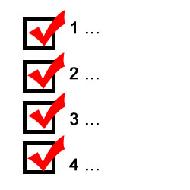 This
week we will talk about internet again. Many clients have talked to us
about their online business and they would like to have some suggestion
in chosing a web hosting company. There are so many companies and
packages for them to choose. Here we will listed out some factors that
need to be considered.
#1 Disk Space
Disk space is
depends on the size of your web site. So, have a look on your web site
folder and see how much disk space it takes up on your computer. You
should always get more space than what is taken up on your computer. For
example, if your web folder is 200MB, you should probably get 250-300MB
of disc space. This extra space allowed you to further expand your web
site and put more materials there. Remember that you need to think about
what kind of materials you pland to add later. If what you plan to add
is some flash animation or some audio/video file, you'd better to get
some more buffer.
#2 Bandwidth
Bandwidth is the
amount of data transfer that your web site can use. If you plan on
having a massively popular site with a large amount of files, then you
should have a high bandwidth. For casual web sites, bandwidth is not as
big a factor. Again, consider cost and try to have more bandwidth than
you need, not less. It is also important to check the bandwidth for
local and overseas.
#3 Web site speed
Web site speed is
seldom taken into consideration. Web site speed is a really important
factor. If your web host has a very slow speed for all of its web sites,
then you may not want to go with that host. People won't stay around at
a page forever. If you want many people to visit your site, having a
fast speed is very helpful. You should check with the web hosting
company and ask them to provide a list of their sites. You can then try
to access to see the response of these sites.
#4 Database / Programming Language support
Database and
Programming Language support are important if you plan to have a dynamic
website and interact with your customers. Currently, most web hosting
provides support for database and programming language, but there are
great variety on database and programming language. You should check and
pick the one you plan to use.
Of course the
above factors are depend on how much you want to spend on it. It's
always difficult to take all the best. You should think about your own
case and find out the best fit. For example, you have a text-centric
site with little photos and target in local market only, you may find a
hosting with little disk space, enough bandwidth for local (overseas is
not important in this case) and normal web site speed.