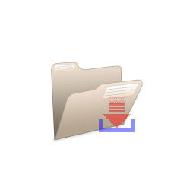 Download files from Internet is more common today. But, there are two scenario which make the download task trouble.
First is the size of download file is large. Second case is we need to download many files. If you can have a manager to organzie the download task, schedule different downloads and even speed-up the download, this will be great.
We will introduce you this manager, Free Download Manager. It is a freeware which can help you organize, schedule and speed-up your Internet file downloads.
In Free Download Manager, you can choose different speed to download your files. You can use the maximum bandwidth to download your files or put the download task in the background which bring the minimal impact to your network.
The software provides a convenient tool, which can integrate with Internet Explorer, Firefox and Opera and also offers a drop target where you can drag and drop files to that you want to download.
It also provides automatic mirror lookup, download scheduling and resume, integrated zip file viewer, customizable download categories, media preview, and website explorer.
This Free Download Manager can be found in following URL:

http://www.freedownloadmanager.org/