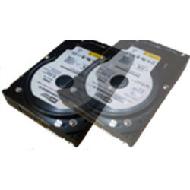 HDClone Free Edition enables you to copy the entire content from an hard drive to another one.
It can prepare a bootable floppy or CD, which has it's own operating system. You can run the HDClone independent from Windows.
Simply boot your machine with the bootable floppy or CD. It will provides a simple and easy-to-use graphical interface and allows you to copy the content of one hard drive to another.
It supports IDE/ATA/SATA hard disks and is able to copy up to 300 MB/min. The latest version now supports USB keyboard and mouse.
You can find further information from the publisher URL

http://www.miray.de/download/sat.hdclone.html