Main Screen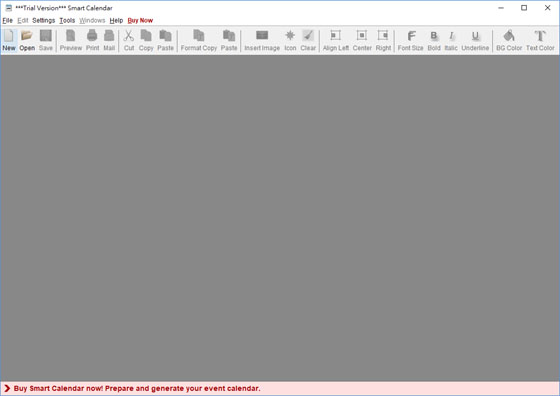 The main screen of Smart Calendar is shown above.

In the top is the menu bar, which has seven options, File, Edit, Settings, Tools, Windows, Help and Order Now. "Order Now" is shown in Trial Version only.

The next is the tool bar, which provides a quick access to some commonly used functions. The buttons in tool bar will be enabled or disabled depends on the file opened.
New, Open and Save - maintain the calendar files.
Preview, Print and Mail - preview or output your calendar into printer. It can also be set as email attachment.
Cut, Copy and Paste - tools to edit your event in the calendar.
Copy Format, and Paste Format - tools to copy and paste the style of selected day box.
Text Alignment - text alignment: left, center and right.
Font Style, Background Color and Text Color - change the output of your calendar events.
Using Smart Calendar

Settings

Tools

Registration