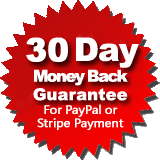 Check Printing & Management Software





"This is a very useful check printing software that has improved our business record-keeping dramatically.

The most obvious benefit is that it produces printed checks that are constantly legible and this ensures that we are able to manage the issue of checks in accordance with banking procedures."
- David Wade, UK
"All the things are kept in records, we don't need to care about the stub or make photo copy on the issued checks."
- Colin Ng, Singapore

More than a Check Writer
No Bulky Machine




It's fast and time-saving

ChequeSystem software prints your checks completely. It can print payee, date, amount, "a/c payee only" and all others.

Put your check into the printer and print with ChequeSystem software. The check is ready to issue once signed.

Batch printing function makes your check issuing process even simpler.



All issued checks are recorded

ChequeSystem provides powerful check book management. You can review all the issued checks at anytime you want. Multiple check books are supported to fit your needs.



Provides comprehensive report

ChequeSystem provides three reports: Account Report, Payee Report and Monthly Statement.

Account Report and Payee Report provide comprehensive queries on date, check books account and payee. Monthly Statement list out all the money in and out activities of your check book.







Total Check Printing Solution

Print every elements
Print every elements on the check, includes:
- Payee,
- Date,
- Amount (Text & Number),
- "A/C Payee Only",
- Bearer,
- Place of Issue,
- "Non Negotiable",
- "Payable On-Date Only",
- "First Payee Only".

Batch Printing
You can also create your checks first and use the batch printing function to print a sequence of checks in batch.

Support different printers
ChequeSystem software supports Laser, InkJet, and Dot-Matrix printer.

Your Check Book Management

Historical Record on issued checks
All issued checks are kept in records. You can add notes and audit code on the checks for internal use. The friendly search function in check book help you locate check easily.

Cheque Template
You can save cheque information as cheque template for those frequently issued cheques. The template can be recalled which make your cheque preparation easier.

Payee List Management
Organized Payee List allows you to load the payee information into the checks with a single click. You can prepare your check even faster and easier.

Account Report, Payee Report & Monthly Statement
Account report generates Cheque Summary on cheque book for any time range. Your cheque book history are always ready.

Payee report gives you a complete picture on all the cheques issued to the selected payee.

Monthly Statement shows you the withdrawal and deposit activities of your check book account by month.

Export to HTML/Excel/PDF format
All the reports can be exported into HTML/Excel/PDF format. You can share the report in HTML or PDF format. If you want to have a further analysis, you can export the report into Excel format.




Fit your Business Needs

- Support Multiple Cheque Books / Multiple Companies
You can create multiple cheque books in the software to fit your different bank accounts.

ChequeSystem supports multiple companies. You can set different workspaces for different companies and process the cheques separately.

Currency Unit / Numbering System
You can change the currency unit from Dollar/Cent to Pound/Sterling, Dinar/Fils or any you want.

ChequeSystem support different numbering systems: Standard, French and India.

Built-in check layouts
ChequeSystem software are built with number of check layouts from different banks. You can simply pick from the layout list and fit your check layout.

Check Layout Design Tool
If you cannot find from the layout list, you can create your own check layout with the help of "Check Layout Design Tool".

How to measure check layout?
We can help you preparing check layout, email us support@evinco-software.com
ChequeSystem ScreenShots

Main Screen

Create Cheque Book

Prepare your Cheque

Payment Voucher

Batch Printing

Cheque Layout Design Tool
Software Summary
Product Name
ChequeSystem Check Printing & Management Software 3.2.0
Latest Version
Release Date
2014-02-12
(First version released in 2005)
Interface Language
English, Chinese (Traditional/Simplified)
Platform
Windows 8.1, 8, 7, Vista, XP
Installation
The downloaded file is named setup.exe (41.9MB).
Once download is complete, double click on setup.exe to install.

Pay attention to the folder where your browser saves the setup.exe file.
Price
US$97.5

- One Time fee. No monthly fees and your license never expires.
Leaflet (PDF)
Guarantee
Risk-free 30 Days Money Back Guarantee for PayPal or ShareIt! order