Register
Trial Version
The Trial Version of PhotoPDF provides same functionality as the registered version.
However, in Trial Version, the output is stamped with a watermark.
To get rid of the restriction of Trial Version, you need to obtain a license and register your PhotoPDF copy.
Registration
To register the PhotoPDF,
(1) Go to menu "Help > Register", registration window is shown out.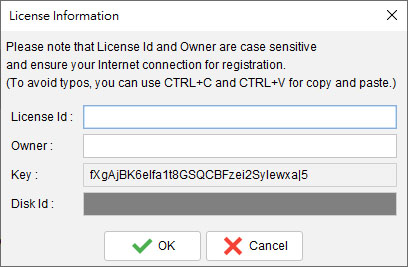 (2) Fill in the "License Id" and "Owner" information and click "OK" to registered. Please ensure the internet connection when registration is in process. Afterwards, restart the PhotoPDF to effective the license.
Note : If firewall is setup and block the connection of registration, the registration cannot be completed. In this case, you need to send the "License Id", "Owner" and "Key" information to technical support.
A "Disk Id" will send back, and you can fill in the "Disk Id" directly without connecting to the PhotoPDF server for register.
Using PhotoPDF

Settings

Tools

Trouble Shooting