Main Screen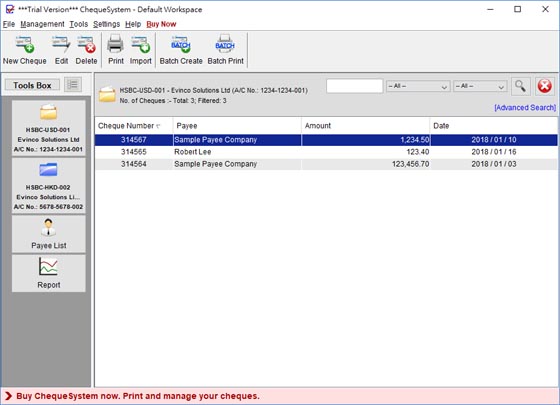 The main screen of ChequeSystem is shown above.

In the top is the menu bar, which has following options, File, Management, Tools, Settings, Help and Buy Now.
Buy Now is shown in Trial Version only.

The next is the tool bar, which provides a quick access to some commonly used functions. The tool bar will varies depends on the Function Panel shown.

The ToolBox on the left allows you to switch between different Function Panels. The cheque books will be listed here. Besides cheque book, it has Payee List and Report.

The Main Panel will show on the large area, it will list out the cheque, payee and reports records in ChequeBook, Payee List and Report accordingly.

Using ChequeSystem

Management

Tools

Settings