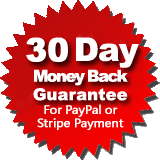 EasyBilling software helps you prepare
Quotation, Proforma Invoice, Invoice, Receipt, Purchase Order,
Delivery Note, Packing Slip, Ordering, Credit Note & Debit Note.




Easy To Use, Save Your Time

You pick customer & item info, EasyBilling finishes layout, pagination & the rest. The documents are ready to print and send to your customer. All the documents can also be exported into PDF, HTML and Excel format.



One Software, Ten Types of Document

EasyBilling software can generate ten types of document:

- Quotation
- Proforma Invoice
- Invoice
- Receipt
- Purchase Order
- Delivery Note
- Packing Slip
- Ordering
- Credit Note
- Debit Note




Enhance Company Image

Documents can be customized to fit your company. You can have your own logo, header, footer, label, color, etc. Sales documents with well-design and layout can project an professional image of your company.

It's not only draw customer attention but also give your customer confidence.



Sales Info and Report are Always Ready

EasyBilling provides comprehensive reports which allow you to view the records by month, or by customer. Monthly statement for Invoice is available. You can get a overall picture on the sales or payment events with ten types of report.






"The software is simple but enough. It saves our time in preparing invoices and the output is really nice."
- Justin Wray, South Africa

"It fits my needs and it is easy to use."
- R Dyson, Canada

"It's very flexible in terms of page layout. ie shows page numbers, repeats company details on mulitple pages, add shipping , less deposit etc."
- Diva Ramachandran, India



Features of EasyBilling :


Document Preparation is Quick and Easy

- Automatic document numbering
- Customer and Item info can be loaded from pre-defined list.
- Total amount, tax/VAT will be calculated automatically.
- Support photo attachments in Quotation and Invoice.
- Stamp document with URGENT, CONFIDENTIAL, REVISED...
- Add your signature image into the document.



Customizable Settings Fits Your Company Needs

Header/Footer, Company Logo, Numbering Pattern, Document Columns, Document Label are customizable to fit your business needs.



Time-Saving Customer List and Item List

Customer and Item information can be loaded into document directly. You are no need to type the information everytime when creating a document. The customer information can also be printed on mailing label.



Email Your Document Easily

Just a single click, documents can be emailed out as a PDF attachment. You can also export the document into PDF, HTML or Excel format.



Complete Sales and Payment Report

Report function provides complete information on all sales and payment activities. Sales and payment information can be traced globally, monthly or by customers. Monthly Statement for Invoice is also available. All document data can be exported in Raw Data Format for further analysis.



Support Multiple Export Formats

All documents and reports can be exported into PDF, HTML and Excel format. They are ready-to-print, share or used for calculation and analysis.



Support Multiple Companies

Documents, Reports and Company Settings are stored in a workspace. User can create multiple workspaces for multiple companies. By switching to different workspace, user can manipulate documents from different companies.

Connect and Share Same Database from Different EasyBilling

Different EasyBilling can be set to use the same Workspace folder in network drive/shared folder. Data can be shared between EasyBilling in different computers.

To avoid data conflict issues, Database is locked for single connection and other EasyBilling will be blocked from access at the same time.








ScreenShots

Main Screen

Prepare Invoice

Prepare Invoice, add product items

Customize Document Header

Monthly Statement Report

Raw Data Export
Software Summary
Product Name
EasyBilling Professional Maker of Sales Document 4.2.2
Latest Version
Release Date
2014-02-26
(First version released in 2005)
Interface Language
English, Chinese (Traditional/Simplified)
Platform
Windows 8.1, 8, 7, Vista, XP
Installation
The downloaded file is named setup.exe (47MB).
Once download is complete, double click on setup.exe to install.

Pay attention to the folder where your browser saves the setup.exe file.
Price
US$94.5

- One Time fee. No monthly fees and your license never expires.
Leaflet (PDF)
Guarantee
Risk-free 30 Days Money Back Guarantee for PayPal or ShareIt! order